Bring your dog of any breed for grooming and maintenance at Clippity Do Dog Grooming. Our groomers are very well trained in grooming and animal behavior to offer an easy experience for your pup. We offer a fun and animal-loving environment where we will treat your dog like one of our own! Your dog will leave with a beautiful and healthy coat. Make sure your dog is current on all 3 vaccinations: Rabies, Distemper, and Bordetella. We do not offer cat grooming.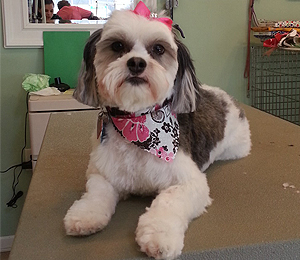 Flea Treatments for a Healthy and Maintained Coat
If your dog comes in to get groomed and our groomer notices that he or she has fleas, we'll immediately inform you to ensure if it's ok to provide flea treatment to your dog. We will use a pill called Capstar that kills the fleas within 15 minutes for an extra charge of $10. If you do not want us to treat the fleas, your dog will not be groomed and will have to be picked up.
Grooming Services for All Breeds
Profile cuts
Summer cuts
Bath and brush
Bath and Neaten
Nail Trim & File
No Stress, Cage-free Grooming
Dogs are not kept in cages during grooming visits to optimize fun and relaxation. If you request for your dog to be caged because your dog does not get along or work well with other dogs, we can do that as well.
After a dog is groomed, the owner has 5 days to bring their dog back to get something touched up or fixed for guaranteed satisfaction.